Fashion Review:
ItBecomesYou/Etsy.com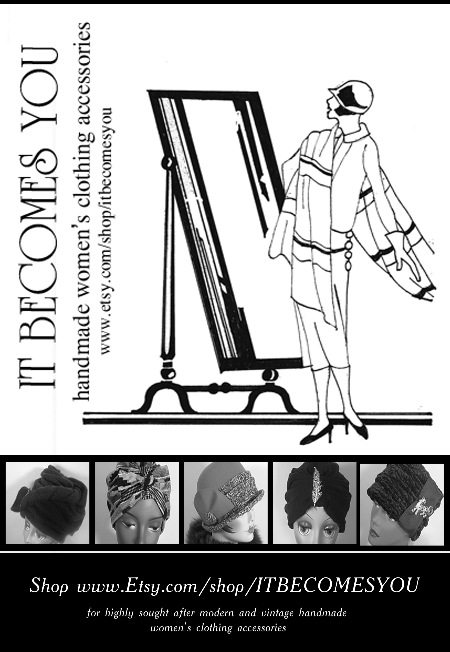 Etsy is known as a major hub for shops and boutiques
in just about every type of offering in fashion, crafts, art, etc.
However few shops are as well defined in what they do and how well they do it as It Becomes You.
There we found a remarkable collection of handmade retro and vintage styled hats, clutches, turbans, jewelry and dresses.
That's what they do and they do it well. Highly detailed cloche and flapper styles of the 20's 30's 40's and 50's,
alongside the largest array of one of a kind turbans in many styles, fabrics, colors and designs.
The customer responses themselves speak to the beauty, quality and value.

We sat down with shop proprietor Julia Yampolsky, to ask just what it is that has made this the much loved site that it is.



NN: What went into making yours such a stand out shop on Etsy.com?
JY: There are so many talented people on Etsy, in so many crafts that before setting up, I knew I had to research what shoppers search for, what makes them visit again. I opened my shop as an alternative for those who sought items that were of the same caliber as their original vintage counterparts. I set out to create patterns for designs that captured the flair and grand elegance of the day.

NN: The undeniable interest in all things retro has spread to movies, music, advertising and fashion seems to be quite affected as well.
JY:Again looking for what will propel a fashion cycle is tricky but you need to try anticipate it.
Back in the 20's and 40's when depression and war affected economy women still needed to be fashionable, look good, be well represented although there was water rationing, and washing and fixing ones hair constantly was not an option, hats became more popular. They relied on them to give that added touch.

NN: Did you anticipate expanding your products beyond the turbans and variety of hats?
JY: To accent the turbans, cloche and flapper hats I added handbags as a mate for many of them.The next logical step was to design dresses in the vintage style, reminiscent of the 1920's long lean silhouette look.

So I'm finishing my line of dresses and handbags that will be available in April.


NN: So you were actually anticipating their thoughts as far as fashion possibilities?
JY: You have to let the customers responses guide your direction I think, study what the respond to and adapt. I really try to approach it all from their perspective. As if I were the shopper. When I shop for myself I am very particular, designs have to make sense, construction has to impress me, there are dozens of considerations shoppers use to make choices, I try to be aware of them.
Also in the presentation of the product on my sight I use the same considerations.
I see so many sites were the product photos are tiny, no real detail can be seen.
I wouldn't want my customers to be unsure of their purchases, so I present them is if it were in there hands. Big Pictures that show the texture of the fabric, many angles and well planned lighting.
I want to give them the sense of having them in their hands.
NN: So the shops great ratings, comments and success must be very rewarding for you.
JY: Well I can get up in the morning, do what I love and if it sells that's a bonus (laughs)
and helping someone in some small way feels great as well.